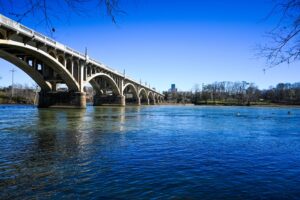 West Columbia, South Carolina, is a city rich in history and modern appeal, located in Lexington County. Formerly known as Brookland, the city was incorporated in 1894 and later changed its name to West Columbia in 1936 to emphasize its proximity to the state capital, Columbia.
Location and Geography
West Columbia is situated in the suburban eastern sections of Lexington County and is bordered to the east by Columbia, across the Congaree River. It's near Columbia's city center, the South Carolina State House, and the Congaree Vista. The city is also bordered to the south by its sister suburb, Cayce, and a small portion borders the town of Lexington to the east. The city's total area is 6.3 square miles, with the Saluda and Congaree rivers to the south and west.
Population and Demographics
As of the 2020 census, West Columbia has a population of 17,416, with a diverse racial composition. The city has seen significant growth over the years, with a 16.2% increase in population from 2010 to 2020.
History and Culture
West Columbia's history is marked by its original incorporation as "Brookland" and its subsequent name change. The city overlooks Columbia over the Congaree River and the Gervais Street Bridge. Several historic places, including the Gervais Street Bridge, Mount Hebron Temperance Hall, and Saluda Factory Historic District, are listed on the National Register of Historic Places.
Economy and Lifestyle
West Columbia is part of the greater Columbia, SC metropolitan statistical area, making it a commuter town with easy access to the capital's amenities. The city's motto, "Bridging Past, Present, And Future," reflects its blend of historical charm and modern conveniences. The median income for a household in the city is $30,999, and the area is home to various businesses, churches, and educational institutions, including Glenforest School.